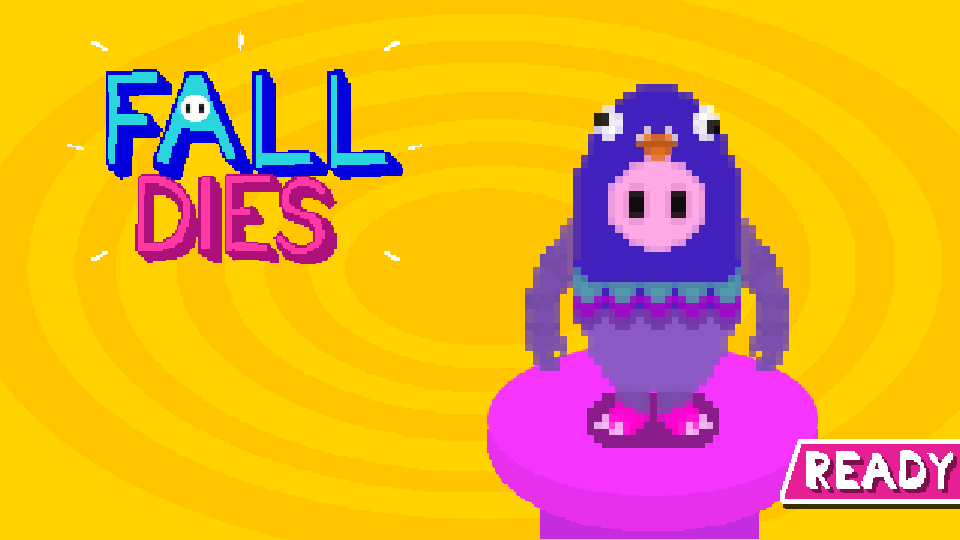 Fall Dies
A downloadable game for Windows
Parody of the game Fall Guys developed for Fluffy Horror Jam which the "theme" was to make a game that incorporates elements of something adorable with something horrifying delivered on Halloween 2020.
Controls (How to play):
WASD or Arrows -> Movements
Spacebar -> Jump
Enter -> Action Button
Don't forget to leave your comments.

Thank you for playing and we hope you have some fun.
Follow our social networks and follow our future projects:
https://twitter.com/BadCoffeeGames
https://www.instagram.com/badcoffeegames
Download
Click download now to get access to the following files:
Comments
Log in with itch.io to leave a comment.
PERFECT TIME FOR A FALL GUYS HORROR GAME !
Its super fun trying to find all the little things to get to the next obsticle! Amazing game for a game jam
Show post...

Make Android version
Will this play noises or jumpscares when the app is closed?
El juego me funciono y esta muy bueno solo que cuando empieza la carrera al empezar el juego los obstáculos y los de más personajes se ven en la pantalla ecepto el fondo que debería estar atrás como por ejemplo los árboles y las montañas no se ven sera que me puede decir como solucionar ese problema porfavor.
ummm it has a trojan lol pls dont install it

It happened on our computer too. It's Windows security, but we still can't understand why it happens.
We have verified that this virus warning is a false positive, Windows Defender does not know our application and blocks it for security. You can temporarily disable windows defender and play it without any danger... Today we send the game to Microsoft to validate the file and remove this lock from windows, now just wait for their evaluation.

Thank you for your feedback
To start the game, just click on any keyboard button or click with the left mouse button on the screen
No im not saying that i can't open the game im saying that i can't walk fastely i can only walk slowly in the game
It only has one speed, just like in the original Fall Guys game.
It's true... we ran out of time in the gamejam to improve these details, but as the game is very short, the difficulty give a little more gameplay.
Thanks for your feedback @AmongUsPro98.